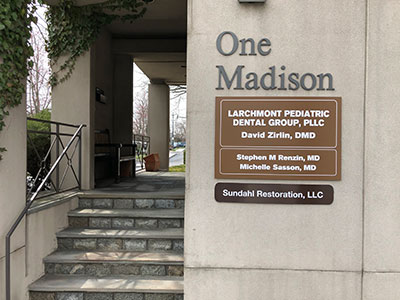 If you are looking for a highly trained and experienced pediatric dentist or orthodontist in Larchmont, you have come to the right place. At our practice, you will receive the highest quality dental care. Our dental office uses the latest state-of-the-art equipment and cutting edge technology and we uphold the strictest sterilization techniques. We know that many people may feel anxious about coming to the dentist, so it is our goal to make your visit with us as pain and anxiety free as possible. We view it as our mission to educate our patients about all of their oral health care options and to help guide them to choose a treatment plan that is most suitable and appropriate for their needs.
Scheduling Appointments
To make an appointment, simply call us or click here to Request an Appointment online.
Financial Policy
Our practice offers a wide range of payment options including financing with no initial payment and a monthly installment plan. Our treatment coordinator will work out a plan suited to your individual needs.
For your convenience, we accept cash, personal checks, and major credit cards. We also offer CareCredit. Payment is requested at the time the services are provided. If you are experiencing financial hardship, financial arrangements can be made with our office upon request. We deliver the finest care at the most reasonable cost to our patients. If you have questions regarding your account, please contact us.
Insurance
Our office will make every effort to provide you with the finest care and the most convenient financial options. To accomplish this, we work with you to maximize your insurance reimbursement for covered procedures.
We do not participate in any insurance network at the time. We will be happy to prepare your insurance form for you to submit. Our front desk staff can help you with the necessary forms for your dental benefits. The reimbursement rates for each insurance plan varies. At your request we will provide you with a treatment plan to submit to your insurance prior to initiating treatment. This will inform you of the amount the plan will pay for your child's treatment. If you have any problems or questions, please ask our staff. They are well informed and up-to-date and can be reached by phone at (914) 834-8012.
Please bring your insurance information with you to the consultation so that we can expedite reimbursement.
Patient Reviews
Convenient Location
Our office is located at 1 Madison Avenue, First Floor, Larchmont, NY 10538. Please enter your zip code or city, state below for door-to-door directions.